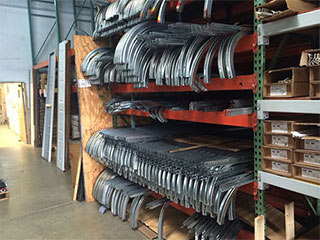 Your garage door system doesn't open and close by using the force. It relies on a system of cables and springs that pull and lower it up and down at a steady pace. These components are therefore incredibly important and should be regularly inspected and lubricated to make sure they are able to continue working optimally for as long as possible.
What Do The Cables Do?
Some overhead door systems have more cables than other ones, and that's because different ones have different roles to play. This is determined by the type of spring system your door uses, as torsion and extension springs use cables differently.
The Torsion Way
If you have a torsion spring installed, then you also have cables that attach to the lower fixture at the bottom of the door. These components run up and loop around a drum like a fishing reel or a mechanical pulley. They help rotate the torsion shaft which causes the spring to twist or unwind accordingly.
The Path Of Extension
If your door uses a system of extension springs, then you more than likely have safety cables that are interlaced with the springs and serve to prevent these dangerous components from whipping around when they break. You probably also have lift cables, which pull the extension springs, and subsequently the door too.
What Are The Cables Made Of?
Most cables are generally made out of braided steel. While they may not look very strong, they're designed to support a considerable amount of weight. The application of these metal components is extremely diverse. That being said, they are not invulnerable. Abrasion and other factors can cause them to corrode and lose their strength over time. When they break, you'll probably be unable to use your door.
Professional Assistance Is Required
A broken cable needs to be replaced by a professional technician because these components bear the entire weight of the door, and can cause a serious injury when they are mishandled. Our team at Garage Door Repair Boynton Beach can help you when cable replacement is due. Don't hesitate to call us whenever you need some help.