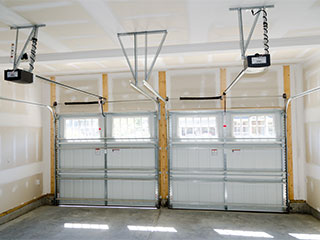 A garage door opener is a complex motorized device, and over the course of its working life it can easily develop some issues. With the help of our expert technicians you'll be able to prevent breakdowns and accidents, which will save you time, money and inconvenience.
Which Type Is Right For You?
There are three distinct types of garage door openers on the market today, and each one is best suited to different uses. Chain drive units are reliable and affordable, and are most commonly installed when owners aren't worried about noisy operation. Belt-drive openers are perfect for keeping noise to a minimal level, although they're more expensive than the other types. Screw drive models are ideal for owners that don't want to deal with maintenance, since they require very little attention. They do operate quite noisily, though, so you should take that into consideration.
Selecting Special Features
Different manufacturers offer special features and upgrades for their opener models. Some systems come with WiFi connectivity, allowing your system to integrate with smart home technology. A lot of openers can also feature backup battery systems, which can come in handy during power outages. Some manufacturers such as LiftMaster and Genie offer additional security in the form of rolling code technology. This feature changes the remote control access codes every time you use it, which prevents thieves from using it if they are able to hijack it via technological means.
Keeping Your System Working
Regular maintenance is the only way to ensure your garage door opener remains fault-free throughout its service life. Our technicians will thoroughly check each component, from the motor gear and circuit board to the rail and the trolley, noting any areas of wear or corrosion and addressing them right away. Any damaged parts will be repaired on the spot or, if necessary, replaced. As part of our regular maintenance service, our team will also tests your door's safety systems, checking the alignment of the photo-electric eyes to ensure that if anything gets in the door's path the system won't close it.
Contact Our Team Today
Our technicians at Garage Door Repair Boynton Beach are always ready to help. Whether you need to have a new opener installed, professional maintenance services or emergency repairs, we'll be there to take care of it. Call us today for more information.
In case you're not as close to us, but you still need help with your garage door opener, there's a solution. Those who live near a different part of Florida can call garage door opener repair experts Miami. These guys provide opener replacement as well as troubleshooting. Be sure to reach out to them if you need help with anything opener related.
Count on us when it comes to:
Part Replacement & Lubrication
Oil Tempered Torsion Springs
Garage Door Off Track Repair