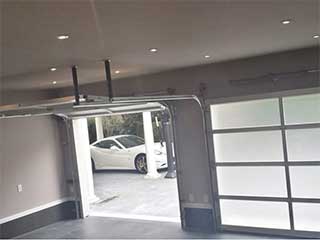 Although every part of your automatic garage door system has a limited lifespan, you can increase their optimal performance and longevity with regular professional maintenance.
The Cables and The Springs
As the parts of your system in charge of lifting the door and supporting its weight, the cables and the springs require some extra care in order to last longer. Our professional technicians can lubricate and adjust them as necessary, and replace them before their condition gets too bad to function optimally.
Track and Roller Maintenance
The tracks that guide the movement of your door can become blocked by debris, develop dents or get misaligned. If you have our experts regularly service them, however, you'll be able to prevent a lot of these issues from occurring. A door that got off track type of scenario can be dangerous, so you'd be wise to do everything you can to avoid it. We will also make sure your rollers are properly lubricated and that they are able to move effortlessly. If we find that any of them are wearing out, we'll simple replace them on the spot.
Regular Opener Services
Your opener needs to be checked and cared for too. Its motor gear and circuit board can suffer from various malfunctions, and the best way to prevent that is to have our specialists routinely examine them and reattach or replace loose wires. We'll also lubricate the drive-system and make sure its rail is properly positioned. Last, but certainly not least, we'll test the safety sensors your opener uses to detect an obstacle in the door's path. We'll make sure they stay correctly aligned and that the system is able to reverse properly.
Schedule an Appointment Today
Our team at Garage Door Repair Boynton Beach is here to help you keep your system in a great working condition and reduce the chance of unexpected accidents. Contact us today for more information.
Give our team a call if you need help with:
Belt Drive Garage Door Openers
Garage Door Safety Inspections
Genie Garage Door Openers
Overhead Door Installation