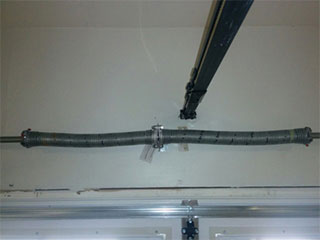 All spring related problems can be terribly dangerous, and therefore when something goes wrong with these components, you need to have a professional take care of them. Our team is here to provide you with an effective solution to any potential issue.
Stretching Vs Twisting
Springs can be divided into two different categories. Extension springs stretch in order to build tension and then contract in order to use that tension to open the door. They are installed in pairs, and are usually interlaced with safety cables that are meant to keep them in place when they break. Torsion springs operate quite differently. Usually only a single one is required, as they are more durable and stronger than their extension counterparts. They are installed across a metal shaft which rotates, effectively twisting and unwinding them as necessary, in order to lift and lower the door.
Thorough Spring Maintenance
In order to keep these components in a great working condition, you need to have them serviced on a regular basis. Our spring adjustment and lubrication services can make sure your door doesn't get unbalanced, and that the efficiency of its opening and closing action remains completely optimal.
Broken Spring Replacement
Although not always an emergency situation, a broken spring always needs to be address as quickly as possible. The act of it snapping is dangerous enough, but the risk isn't over after it occurs. Your system remains unsafe to use until the damaged component is replaced, and trying to open the door either manually or using the opener, could lead to a terrible injury.
We're Here For You
Our experts at Garage Door Repair Boynton Beach are here to help you deal with any type of problem your springs may experience. Remember to give us a call whenever you need a professional's assistance.
Need more? We also provide:
Roll up Garage Door Maintenance
Torsion Spring Adjustment
Opener Sensor Replacement
Emergency Garage Door Repairs